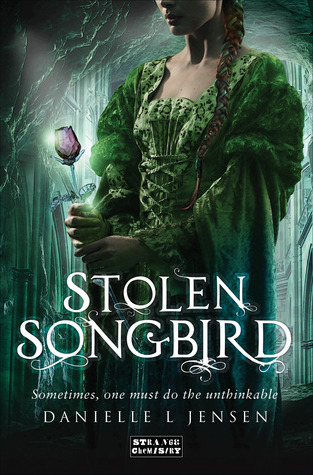 Blurb from Goodread
For those who have loved Seraphina and Graceling comes another truly fabulous fantasy…
For five centuries, a witch's curse has bound the trolls to their city beneath the ruins of Forsaken Mountain. Time enough for their dark and nefarious magic to fade from human memory and into myth. But a prophesy has been spoken of a union with the power to set the trolls free, and when Cécile de Troyes is kidnapped and taken beneath the mountain, she learns there is far more to the myth of the trolls than she could have imagined.
Cécile has only one thing on her mind after she is brought to Trollus: escape. Only the trolls are clever, fast, and inhumanly strong. She will have to bide her time, wait for the perfect opportunity.
But something unexpected happens while she's waiting – she begins to fall for the enigmatic troll prince to whom she has been bonded and married. She begins to make friends. And she begins to see that she may be the only hope for the half-bloods – part troll, part human creatures who are slaves to the full-blooded trolls. There is a rebellion brewing. And her prince, Tristan, the future king, is its secret leader.
As Cécile becomes involved in the intricate political games of Trollus, she becomes more than a farmer's daughter. She becomes a princess, the hope of a people, and a witch with magic powerful enough to change Trollus forever.
ebook, 324 pages
Published April 1st 2014 by Strange Chemistry
language edition: English
series: The Malediction Trilogy
genre: Fantasy, Romance, Young Adult
My Thoughts
Although I can't wait to read this book, there's a part of me that doubt it will be good. As the blurb says, it's about troll while the troll I know is the kind that turn to stone under the sun, the ugly creature who loves to boil human, the one like Tom, Bert and William from The Hobbit. So I was kind of wondering how will Danielle Jensen creates it into something good, nice, if not pretty creature without being too romanticized it. Tristan, the troll prince, says the troll I know is just human made-up, a myth that far from reality. Through his voice, along with Cécile, a human girl and the main character in this story, I believe that that is true.

It's been a while since I read a fantasy book that feel like it takes place in and/or part of this world history. Most of fantasy books I read these days seem so far away from our time. Yeah I know that's why it's called fantasy but it also feels nice when I read fantasy that I feel like it's a part of human history. A story I can relate too. Reading this book bring those feeling. The troll world with their knowledge of solar system, earthquake, and all make it close to the world I know. Hence I feel like Cecile and Tristan story is a part of our world, a history that can be read and relate to. It might sound weird, but I like that feeling.

As the main characters, Cécile and Tristan are easy to love and connect with. Tristan, the heir of Trollus has different perspective of his world from his father. It leads him into rebellion. Through Cecile's eyes, I get that he's perfect and swoon worthy. He is indeed perfect but it's Cecile that makes me keep reading this book. She doesn't have strength or magic like troll, easy to bleed and needs time to heal. She's fragile compare to troll. She's human. But to me she's strong and brave. She refuses to be helpless and useless. Aside them, I also love supporting characters. Tristan friends, the twin Vincent and Victoria, I never get bored reading their antics. Marc, I love him I want him to have his own happy ending and Anais, she's surprising me through and through. I even like reading Zoe and Elise and other half-blood.

I don't think this book can begin and end better than what already has. The beginning makes me curious of the story. It draws me to read more, to know and understand the characters and their story while the ending makes sense, believable and left me wanting more. It also begins and ends with action. I think I can say that this book is full of action and tension, at least that's what I feel. It's fast-paced, though the pace is a little bit slower in the middle of the story. But it isn't a problem for me because that's where I learn more about Tristan world and their political intrigue. It doesn't mean there isn't anything happened in the middle of the story, though. I assure you, there are a lot of things happened, some predictable, some aren't. One thing for sure there is always tension in it.

All in all, I love this book. Everything in it is perfect. And should I say that it's well written with beautiful-magical worldbuilding and doesn't have an insta-love or I-feel-like-I-know-you-forever-and-can't-live-without-you kind of line? For me, it couldn't be more perfect.
Result: 5 out of 5 stars