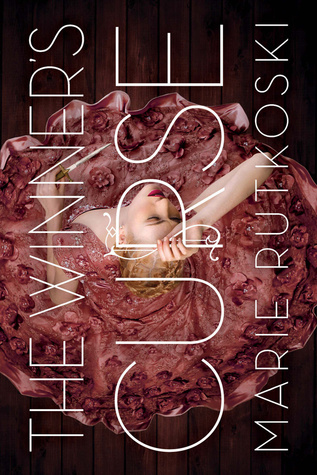 Blurb from Goodread
Winning what you want may cost you everything you love
As a general's daughter in a vast empire that revels in war and enslaves those it conquers, seventeen-year-old Kestrel has two choices: she can join the military or get married. But Kestrel has other intentions.
One day, she is startled to find a kindred spirit in a young slave up for auction. Arin's eyes seem to defy everything and everyone. Following her instinct, Kestrel buys him—with unexpected consequences. It's not long before she has to hide her growing love for Arin.
But he, too, has a secret, and Kestrel quickly learns that the price she paid for a fellow human is much higher than she ever could have imagined.
Set in a richly imagined new world, The Winner's Curse by Marie Rutkoski is a story of deadly games where everything is at stake, and the gamble is whether you will keep your head or lose your heart.
ebook, 355 pages
Published March 4th 2014 by Farrar Straus Giroux
language edition: English
series: The Winner's Trilogy
genre: Fantasy, Romance, Young Adult
My Thoughts
Oh, hype why can we not be together?

With the blurb that intriguing, glorious reviews and a very pretty cover, I have high hope with this book. Unfortunately it's just another perfect packaging that didn't match my hope.
First few chapters were a page-turner for me. It can capture my attention to the story and I was so curious of what will happen next to Kestrel and her world. But my curiosity was just a curiosity since there isn't much happens on the story it became boring at first part of the book. Thank goodness the pace finally picked up and there are thing that made it more interesting, though I have to say that it wasn't surprising either since I mostly can guess it.

I think this book has good idea and could be an awesome book but somewhere along the pages there are a lot of plot holes, stupid-unbelievable holes that I can't help to not ignore it. It made me think that how came most of the characters act so reckless, if not stupid.

10 years isn't a long time for a new nation or state of whatever I should call Kestrel place, especially when the conqueror lives side by side with the conquered who become a slave to the new ruler at their own house and land. There will still be prejudice, hate, suspicious and whatnot with each other. Hence, it's on their nature and instinct if they protect each other highly. But I didn't see it in this book, at least not in the way Kestrel, Arin and even her father, who is a general of the empire, act and treat each other. They trust each other easily. It's just not right and I didn't buy it, instead it made me mad of their recklessness or ignorant or even stupidity?

And then there is also romance between a mistress and her slave which I was waiting for it anxiously, to be honest since I love star-crossed romance, but more than half of the story I didn't buy it either. I couldn't see why they're fall in love. Yeah I know love doesn't need reason but it has to believable for me to buy it. I don't think it's an insta-love since there is time for each other to build their relationship. But they don't see, meet or interact as much either. I felt like they romance comes out of nowhere just for the sake of star-crossed love story.

However, I'm kinda liked the way it ended. I liked Kestrel decision for Herrani and its impact for her life. I think it's the only thing that made me decided to round it up to 3 stars, aside that I'm feeling generous right now. And I'll read the sequel for sure, just for the sake of my curiosity.
Result: 2.5 out of 5 stars