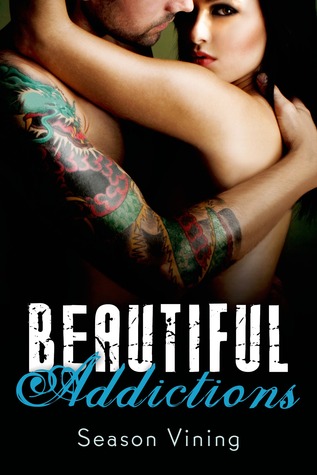 Blurb from Goodreads
Josie Banks is a girl without a past.  After being found unconscious with no memory, she was shuffled in and out of foster homes where she suffered years of abuse. An experience that left her broken, damaged, and clinging to drugs and meaningless hook-ups to numb her pain.
When Josie disappeared years ago, she took a piece of Tristan with her.  She's the girl he thought he lost forever—the one he's never been able to forget.  Now a twist of fate has brought them back together, and he never wants to let her out of his inked arms again.  But Tristan is haunted by a dark past of his own.  On the run from ruthless criminals that shattered Josie's world years ago, reentering her life puts them both in danger.
As Josie and Tristan's lives become tangled once again, they find themselves unwilling and unable to escape the relentless pull that draws them together.  But in Season Vining's Beautiful Addictions, will the past leave their love in ruins—or bind them together for a lifetime?
Kindle Edition, 288 pages
Published January 28th 2014 by St. Martin's Griffin
edition language: English
genre: Contemporary, Romance, New Adult
My Thoughts
I think Beautiful Addictions has perfect ingredients for NA contemporary books I usually like. Yes, it's formulaic, well…many books are formulaic nowadays. But I don't mind if it handles well. Some formulaic books works for me, some just doesn't. Unfortunately, this time I have to say that that perfect ingredient doesn't work for me.

I have high hope to this book when I read the blurb. I always love story where the main characters have baggage because it mostly create drama, which is like my pet peeves in the story. But after a couple of chapters, I know there are things that I didn't like from this book. It has too many POV to begin with. I barely know the main characters, Tristan and Josie at the beginning of the story. Instead focus on them to know them and understand their story, I also have to read another POV which is too much for me. Hence, there are a lot of things happen at the same time. There are different POV in around first ten chapters that keeps changing from one POV to another POV. And all the while I keep wondering who is who and what her/his connection with each other is.

In the middle of the story, many characters instantly fall in love or have an insta-relationship that I just couldn't buy. Knowing that many characters here have problem with criminal issues, I assumed that they will have trust issues too, just because they have to be careful for themselves since they have enemies. But they seem don't have that carefulness and fall to each other easily and believe to what other character that they barely know easily. Again, I just couldn't buy it.

And the main reason I couldn't like this book in the first place is I couldn't connect with Tristan and Josie. It causes those reasons I write above and feel the things that the characters do or talk feel wrong to me. Hence I couldn't care to their story and just read it to finish it.

I think it is just-me-not-you kind of book because I know that most readers love it.
ARC was provided by the author/publisher via NetGalley in exchange for honest review.
Result: 2 out of 5 stars