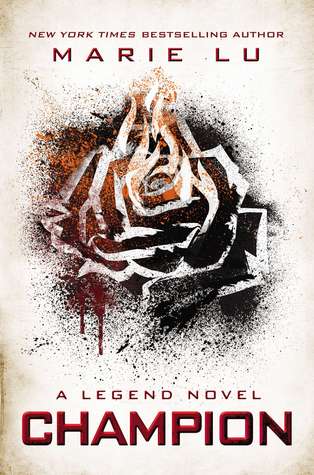 Blurb from Goodreads
He is a Legend.
She is a Prodigy.
Who will be Champion?
June and Day have sacrificed so much for the people of the Republic—and each other—and now their country is on the brink of a new existence. June is back in the good graces of the Republic, working within the government's elite circles as Princeps-Elect, while Day has been assigned a high-level military position.
But neither could have predicted the circumstances that will reunite them: just when a peace treaty is imminent, a plague outbreak causes panic in the Colonies, and war threatens the Republic's border cities. This new strain of plague is deadlier than ever, and June is the only one who knows the key to her country's defense. But saving the lives of thousands will mean asking the one she loves to give up everything.
With heart-pounding action and suspense, Marie Lu's bestselling trilogy draws to a stunning conclusion.
ebook, 274 pages
Published November 5th 2013 by G.P. Putnam's Sons
edition language: English
series: Legend
genre: Dystopia, Romance, Young Adult
My Thoughts
What a journey I had with this series! I know you might think that I'm way late gushing over this book now. I intentionally didn't read Legend as soon as it released. And all the hype and glorious rating couldn't bring me pick it up soon, not until the series completed and my trusted friends "forced" me to read it. When I finished Legend, there was a teeny tiny part of me that thought maybe this series wasn't for me. Legend put me on minority side among most of readers. I felt like there are things that I just couldn't buy. But I really like the idea and the flow of the story so I picked Prodigy instantly, which is way better than its prequel. After that, I couldn't help not to read Champion back to back.
As the battle changes its target, the story is also slightly changes. There is more political talking, bargaining power and military tactic than in its prequel. And it might not have as much action scenes as Legend and Prodigy. I think there are two to three action scenes. But somehow this book is more eerie and sent goose bumps and made my heart beat faster than when I read Legend and Prodigy. There is something haunting when I read the blaring signal to seek cover scene or how frustrated the characters to figure out the cure for the virus. For me, the bioweapon war more fearful than army weapon war. Those are more frightening me more than high explosions, gun shooting and jumping around kind of scenes.
There are so many things happen in this book, just like so many things happen in the Republic and June and Day relationship. And so much emotions in it, but is not a happy one. I didn't feel happy or joy or glad in most of the story, it mostly sad feeling and depressing. Marie Lu pushes her characters beyond their physical and emotional strength. Yet, there is also hope in June and Day story. And the way they tell their story really drained my emotion.
At the end of the story, it's just bittersweet for me. I'm glad it's over, the characters don't have to struggle anymore but it isn't easy either. Now, I can say that this is one of my favorite books. Champion IS a champion of the series.

Result: 5 out of 5