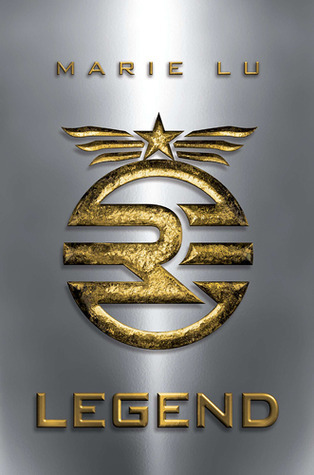 Blurb from Goodreads
What was once the western United States is now home to the Republic, a nation perpetually at war with its neighbors. Born into an elite family in one of the Republic's wealthiest districts, fifteen-year-old June is a prodigy being groomed for success in the Republic's highest military circles. Born into the slums, fifteen-year-old Day is the country's most wanted criminal. But his motives may not be as malicious as they seem.
From very different worlds, June and Day have no reason to cross paths – until the day June's brother, Metias, is murdered and Day becomes the prime suspect. Caught in the ultimate game of cat and mouse, Day is in a race for his family's survival, while June seeks to avenge Metias's death. But in a shocking turn of events, the two uncover the truth of what has really brought them together, and the sinister lengths their country will go to keep its secrets.
Full of nonstop action, suspense, and romance, this novel is sure to move readers as much as it thrills.
ebook, 234 pages
Published November 1st 2011 by Putnam Publishing Group
edition language: English
series: Legend
genre: Dystopia, Romance, Young Adult
My Thoughts
Wikipedia: A dystopia (from the Greek δυσ- and τόπος, alternatively, cacotopia,[1] kakotopia, cackotopia, or anti-utopia) is a community or society that is in some important way undesirable or frightening. […] Dystopias are often characterized by dehumanization,[2] totalitarian governments, environmental disaster,[3] or other characteristics associated with a cataclysmic decline in society.
Legend has all of dystopian characterization as stated above, though I haven't seen real totalitarian governments here since the military takes bigger part, instead of the government. But I think its role can be as the government right hand. So yeah…it really is dystopian. And if I see it through its genre, I can say that I really liked it more than most of YA dystopian books I've read. I prefer this book much more than Wither by Lauren DiStefano or Uglies by Scott Westerfeld which I really liked or even other dystopian books that remind me of Legend, Divergent by Veronica Roth, Black City by Elizabeth Richards, Gravity by Melissa West.

However, I can't say that I really love it, at least not as much as I love The Hunger Games by Suzanne Collins.
1) I prefer reading story from 2 POV. I feel like I can get two different side of the story. This book tells from both June (the heroine) and Day (the hero) POV, but I have to say that I didn't quite like it. Both of them sound similar to one and another. The way they observe everything, the way they thinking and describe their appearance sound the same. I know it might be because they are both smart, observant and all. But still…

2) I didn't get the reason why does Republic of America become the way it is (or am I miss something here?). I mean, I need explanation whether it's because war with other counties or rebellion between the states or else? If it is because of war, who they fight from? And then who the Colonist are? So many questions are in my head now but I haven't yet got the answer. I assumed it will reveal more in its sequel, though. So I'll keep those questions in my head for now.
3) As most of readers said it is a full-action story. I agreed with them. It's fast-paced and has many actions that make my eyes glued to the story. It's a book that meant to be a movie kind of thing. It's easy for me to picture the scenes and engage to the story with those action scenes and interesting characters. To be honest, I even have my own Commander Jameson in my head now. Sue Sylvester from Glee series will be a perfect Commander Jameson for me. Yet, most things are predictable. Yes, I got a surprise at the beginning of the story, but it isn't a surprise really since the blurb has said it. It was surprising me because I didn't read the blurb before I read the book. I can guess almost of the important things, things that connect to the plot. It was still enjoyable to read, though. Well…I think it was because of those actions scenes.
4) I have problem to believe that the main characters are only 15 years old. They aren't even young adult yet. I can understand that they act and think that way because of their condition. I actually can buy Day situation. He tries to survive from his situation, just like Katniss, Tris or David. It is June I didn't quite buy. At 15 she's already in top of military ranks. Even if she's smart enough and has killer skill, how about her emotional and psychological, can her emotion and psychic take strict military order and rules?
5) Just like most of YA books, this book also can't help to not include the insta-love. June & Day insta-love (or is it an insta-lust?) is quite annoying. Knowing the way they grew up, what they thinking about each other for their whole life, their circumstances, trust-no-one attitude, it's just kind of odd they throw and forget it all when they see each other eyes for the first time. I liked their relationship enough but at the same time I didn't buy it either. And speaking of things that I didn't buy, I was also questioning Day's mad skill to jump from high level building in very bad injury and his eye resistance toward the surgery.
In the end, I think Legend is more enjoyable than most of YA dystopian books I've read but it also still has many plot holes. I just wish the sequels cover all of them. I'm going to read it soon, by the way. Yeah…I can't wait to read Day and June destroy the Republic.

Result: 3 out of 5 stars