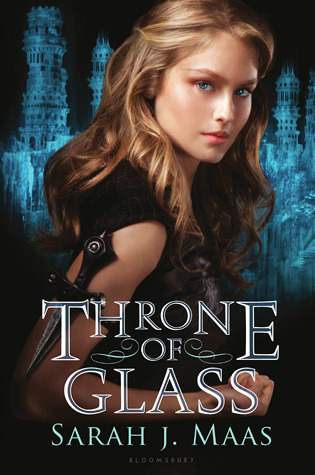 Blurb from Goodreads
After serving out a year of hard labor in the salt mines of Endovier for her crimes, 18-year-old assassin Celaena Sardothien is dragged before the Crown Prince. Prince Dorian offers her her freedom on one condition: she must act as his champion in a competition to find a new royal assassin. Her opponents are men-thieves and assassins and warriors from across the empire, each sponsored by a member of the king's council. If she beats her opponents in a series of eliminations, she'll serve the kingdom for three years and then be granted her freedom.
Celaena finds her training sessions with the captain of the guard, Westfall, challenging and exhilirating. But she's bored stiff by court life. Things get a little more interesting when the prince starts to show interest in her… but it's the gruff Captain Westfall who seems to understand her best.
Then one of the other contestants turns up dead… quickly followed by another.
Can Celaena figure out who the killer is before she becomes a victim? As the young assassin investigates, her search leads her to discover a greater destiny than she could possibly have imagined.
Kindle Edition, 432 pages
Published August 7th 2012 by Bloomsbury USA Childrens
edition language: English
series: Throne of Glass
genre: Fantasy, Romance, Young Adult
My Thoughts
Among so many genres in the story, fantasy is what I love the most. Throne of Glass is a fantasy story that captured my attention since I read its blurb. I liked the setting, the plot and loved the character names. It might be a tiny thing but I always pay more attention to character names, especially in fantasy story. It seems fantasy story often has unusual names because it is a fantasy story. I don't mind of those unusual names as long as it suits with the story. Characters in this story have names that more that suit with them. It feels like they belong to the story. And for that I loved all of those names. But somehow I can't say that I really enjoyed the story.

It was hard for me to believe that Celaena is a great assassin. She cares too much about her look; pay more attention to her clothes, hair and whatnot and craving people attention and want people's approval that she is a great assassin. I think there is nothing wrong with all of it if she also proves me that she indeed is a great assassin she keeps telling me and everyone talk about, as she claims. It just she seems too busy talking about clothes and hair rather than acts like a true assassin. No wonder her competitors don't pay attention to her, I don't believe her myself. Yes, in some part there are things that proof she's a notorious assassin but it's mostly only her talk. Again, I need proof with her action, rather than only her talk. Let's say I need her to talk less do more.

Hence, it made the story kinda boring. It couldn't glue my attention and I felt a sleep so many times while I read it. However, once the magic started in the story, it got more interesting. It's like the story needs the magic to make me finish it. And a couple chapters through the ending are what made it interesting. And in the end, I'm curious enough with Celaena's past, Chaol's future, Nehemia's next story and Dorian's role to read the sequel, for sure.
Result: 3 out of 5 stars