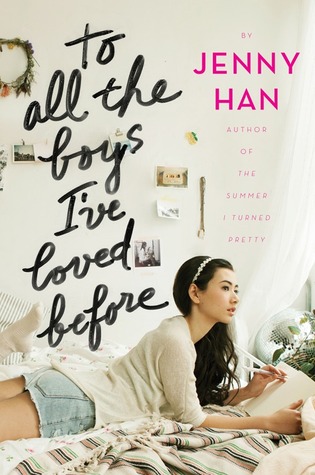 Blurb from Goodreads
To All the Boys I've Loved Before is the story of Lara Jean, who has never openly admitted her crushes, but instead wrote each boy a letter about how she felt, sealed it, and hid it in a box under her bed. But one day Lara Jean discovers that somehow her secret box of letters has been mailed, causing all her crushes from her past to confront her about the letters: her first kiss, the boy from summer camp, even her sister's ex-boyfriend, Josh. As she learns to deal with her past loves face to face, Lara Jean discovers that something good may come out of these letters after all.
Kindle Edition, 288 pages
Published April 15th 2014 by Simon & Schuster Books for Young Readers
edition language: English
series: To All the Boys I've Loved Before
genre: Contemporary, Romance, Young Adult
My Thoughts
Actually I really enjoyed reading this book. I liked the characters, Lara Jean the MC; her sisters, Margot and Kitty; Margot's ex-boyfriend, Josh; Lara Jean's so-called boyfriend, Peter and even Lara Jean's friend, Chris. I think they are funny and interesting characters. I also liked the way Lara Jean wrote her letters. It wasn't cheesy kind of love letters. It's more hello-goodbye love letters, her way to tell her crush that she has crush on them but then (sort-of) not anymore. And I especially liked the Song girls' relationship. I can understand Lara Jean feels regarding their sisterhood easily since I also have two sisters.

However, in some part I find it was quite hard to believe that Lara Jean is 16 years old. She can be immature and naive for her age. I wish she can grow up along the story knowing that she's in charge of the household now after Margot leaves for college. Reading she makes the same mistakes a couple time were quite frustrating me, especially regarding her role as the older sister for Kitty. I understand she feels like Margot overshadow her but I just hope she takes in charge and responsible with her actions, instead of run away and lie again and again.

Although the story is predictable, it's also quite engaging for me. It makes me glue to it and can finish it in one sitting. I'm going to read its sequel, for sure.
Result: 3 out of 5 stars