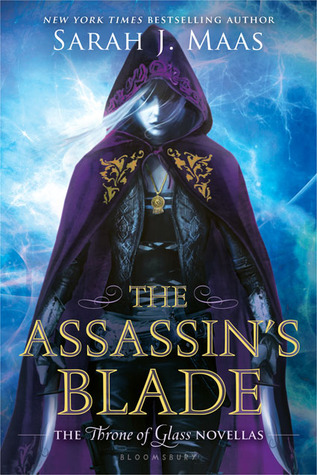 Blurb from Goodreads
Contains all five novellas.
Celaena Sardothien is Adarlan's most feared assassin. As part of the Assassin's Guild, her allegiance is to her master, Arobynn Hamel, yet Celaena listens to no one and trusts only her fellow killer-for-hire, Sam. In these action-packed novellas – together in one edition for the first time – Celaena embarks on five daring missions. They take her from remote islands to hostile deserts, where she fights to liberate slaves and seeks to avenge the tyrannous. But she is acting against Arobynn's orders and could suffer an unimaginable punishment for such treachery. Will Celaena ever be truly free? Explore the dark underworld of this kick-ass heroine to find out.
ebook, 448 pages
Published March 4th 2014 by Bloomsbury Childrens
edition language: English
series: Throne of Glass
genre: Fantasy, Romance, Young Adult
My Thoughts
Some novellas are interesting and some other are boring. But all of them are the reason what Celaena do and talk in Throne of Glass and Crown of Midnight. And it makes her story much clearer.
1. The Assassin and the Pirate Lord, 2.5 stars
As a prequel of Celaen Sardothien world and work, I think this is an okay novella. It has fine action scenes and I got to know Sam Cortland, her first love interest, though I have to say that there's not much about him either. Maybe his story will be told in other novellas. I certainly hope so.
Although I didn't dislike Celaen here, I didn't love her either. Somehow she's like a mix between she in Throne of Glass and Crown of Midnight. She's a bit drama queen, reckless, bold and eager to show other that she's Arobynn's protégée. Maybe it's because she's only 16 years old but still I found myself rolling my eyes whenever she does things that endanger herself and also Sam, as her companion.
I also think that Rolfe, the Pirate Lord, is too easy to be tricked and I was questioning him for how easy he trusts Celaena and Sam by telling them the ship schedule. As a well-known Pirate Lord, I think it's a foolish act and again made me rolling my eyes. The way Celaena hide what she does from Arobynn also sounds far-fetched for me. Surely he won't trust her letters that easy, will him? I know I won't believe her if I were Arobynn.
2.

The Assassin and the Healer, 2 stars
This novella takes place right after the first novella, The Assassin and The Pirate Lord. Celaena is punished because of what she did in Skull's Bay.
I see her as a different person here, brooding and all emo. And seek troubles to make her day. Basically she's bored and yet she makes me bored too. There aren't much happen in this story, only two fighting scenes to ease her boredom but not much for me to enjoy it.
However I'm quite like Yrene Towers. I think she's a good character and has so much potential as an interesting character. I hope she has bigger role in the series.
3.

The Assassin and the Desert, 3 stars
What I dislike
Celaena here is like Celaena in Throne of Glass. She talks about dress, make up and stuff most of the time. She's selfish, whine a lot while I think it's understandable why Arobynn sent her to Red Desert. After all, she often said that what have she done on The Assassin and The Pirate Lord is worth it. If she thinks that letting the slaves go is worth of anything, she should take its consequences. Arobynn won't let it go, for sure. I knew it, so why she keeps whine about it? She also couldn't learn of what is so obvious about what The Master wants and the meaning behind her train. As Adarlan's assassin and Arobynn's protégée she's so clueless. She doesn't seem like a clever assassin to me.
Hence, more than half of the story is so boring. Nothing much happen except those things I've mentioned above. It can't keep me glue to the book. And I left it behind so many times to do something else.
What I like
There are things that Celaena tells in Throne of Glass and Crown of Midnight without much clarity are told here and become clearer to me. It makes it intertwines each other nicely. Thus I can buy that this is Celaena's past.
The twist and surprise at the end of the story makes this novella is worth reading, more over after there's nothing much happen in more than half of the story. I just wish it happens earlier to make this novella more interesting and less boring.
Other characters, aside Celaena. I think they shape Celaena's personalities in Thrones of Glass and Crown of Midnight. What she has in those books are mostly because of them. I'd love to see them, especially Ansel again in the sequel. I think she's as a complex character as Celaena but in one way is more interesting than Celaena herself.
4.

The Assassin and the Underworld, 3 stars
I liked this novella better than previous ones, though it still has things I didn't quite like.
One thing for sure, Celaena's mission is only mentioned in around 25% toward the ending. The first 75% of the story is spent to tell her way of life. How she enjoyed clothes, parties and stuff, though between all those stuff she also does her job, spying her target and planning how to kill them. I feel like she cares more about her life than her mission. On the other hand, I get to know how she eager to free herself from Arobynn. I guess it makes me see her as a young woman too, rather than only a notorious assassin.
I liked that Sam Cortland has bigger story here. I can buy his love for Celaena but it's quite hard for me to believe that she loves him back. As she said she never think about him more than a fellow assassin before the Skull's Bay mission. It was like 3 months before this story takes place. And suddenly she sees him in a different way while I think she's one of characters whose so focus to herself and rarely pay attention to other.
5.

The Assassin and the Empire, 3 stars
This is certainly my favorite among novellas in The Assassin's Blade. Celaena is less annoying here. I think it has to do with Sam Cortland. He's a perfect balance for her. And I wish I get to read from his POV too. I want to know more about his past, his love for Celaena and what he feels when he's captured by Rourke Farran.
However, I don't think that Celaena here matches with who she is in Throne of Glass. At the end of the novella, I feel like she has more burden than ever because of Sam's death and she's kinda let of what will happen to her. While in Throne of Glass she's quite cheerful and wants people recognition as Adarlan's Assassin. It's just like the opposite herself.
Result: 3 out of 5 stars