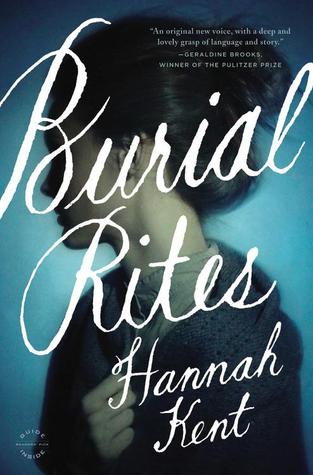 Blurb from Goodreads
Set against Iceland's stark landscape, Hannah Kent brings to vivid life the story of Agnes, who, charged with the brutal murder of her former master, is sent to an isolated farm to await execution.
Horrified at the prospect of housing a convicted murderer, the family at first avoids Agnes. Only Tóti, a priest Agnes has mysteriously chosen to be her spiritual guardian, seeks to understand her. But as Agnes's death looms, the farmer's wife and their daughters learn there is another side to the sensational story they've heard.
Riveting and rich with lyricism, BURIAL RITES evokes a dramatic existence in a distant time and place, and asks the question, how can one woman hope to endure when her life depends upon the stories told by others?
Kindle edition
Published September 10th 2013 by Little, Brown and Company
language edition: English
genre: Historical Fiction, Adult
My Thoughts
I think this is a very good debut. It has an interesting-unique story, beautiful written with great plot and characters. The story itself is a fictional but mix with true event and real person, Agnes Magnusdottir. I always like this kind of book. Book where fictional mix with real life person. Thus, liking this book is an easy thing to do.
Although most of the story is told from third person, there are also Agnes's POV here. I usually don't like this kind of narrative. I prefer reading in either third person or first person, but not both of them at the same time because it usually doesn't work well for me. But this is not the case. Third person and Agnes's POV alternate telling their story and is delivered nicely. There are things that Agnes tells also are told by third person but somehow it doesn't overlap, in fact they complement each other.
My only thing I didn't quite like is it is too slow for my taste and in some part it couldn't make me engage to it. I need a week to finish it while I usually only need 2 to 3 days to finish a page-turning book. Although I love the way it's written, it couldn't make me be in the story with the characters. It's like I only watch them and listen to them from the sideline, am not a part them.
Result: 3.5 out of 5 stars