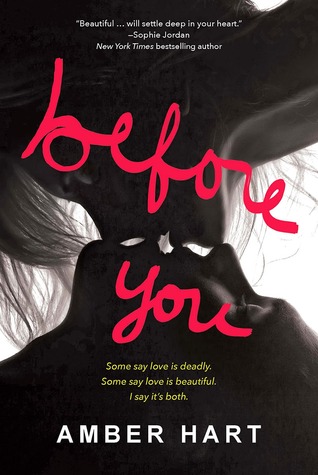 Blurb from Goodreads
Some say love is deadly. Some say love is beautiful. I say it is both.
Faith Watters spent her junior year traveling the world, studying in exquisite places, before returning to Oviedo High School. From the outside her life is picture-perfect. Captain of the dance team. Popular. Happy. Too bad it's all a lie.
It will haunt me. It will claim me. It will shatter me. And I don't care.
Eighteen-year-old Diego Alvarez hates his new life in the States, but staying in Cuba is not an option. Covered in tattoos and scars, Diego doesn't stand a chance of fitting in. Nor does he want to. His only concern is staying hidden from his past—a past, which if it were to surface, would cost him everything. Including his life.
At Oviedo High School, it seems that Faith Watters and Diego Alvarez do not belong together. But fate is as tricky as it is lovely. Freedom with no restraint is what they long for. What they get is something different entirely.
Love—it will ruin you and save you, both.
Kindle Edition, 321 pages
Published July 29th 2014 by Kensington
edition language: English
series: Before & After
genre: Contemporary, Romance, Young Adult
My Thoughts
Before, I was intrigued enough with the blurb to request this book from NetGalley. Add it with that pretty cover. I was so glad they approved my request. Now, it's the only thing from this book that work well with me. Aside the cover, everything didn't work for me and I mostly couldn't buy it. And let me tell you this book reminds me a lot of Rule of Attraction and Perfect Chemistry by Simone Elkeles. It's like the mix between the two of them become this new story.

1. An insta-love (lust?) Sigh. I honestly couldn't say anything anymore about this one. What's wrong with wanting time to build the relationship? A make sense relationship that builds slowly and believable, not a love that make the characters head over heel only after a few minutes they met. It's lust, not love if you ask me. I sometimes make an exception for an insta-love story, but in this case, I can't buy Faith and Diego's love.
2. The writing. I don't know what's Faith and Diego are trying to tell me with their over flowery descriptive thoughts. In some part it works but other parts I didn't quite like it and made me cringe and roll my eyes.
Waking sun shine off my hair, high lighting a few strands brighter than the rest.
The blond hostess walks up and trails a hand across Diego's arm, batting her eyelashes, a clump of dark spider legs reaching for her brows.
It feels like they are trying too hard to be meaningful but are quite weird for me.
3. The ending. What the hell is that? Maybe it supposed to be a twist, a surprise or whatever but it didn't work well at all for me. I.just.couldn't.buy.it. It's too good to be true. It's far-fetched. And it's unbelievable. I mean am I supposed to believe that it happens that easy?
4. There are prejudice and stereotypes regarding of white people and Latino here. I think it can work well for me if it's delivered differently. It doesn't explain much about the difference between the ethnicity instead in most part it's mostly about stereotypes.
I still have moments I like, though. It mostly when Faith and Diego spend time together. I think they deserve to be happy and being with each other surely makes them happy.
In the end, I think it's an okay book and I can see why other readers love it but it certainly didn't work well for me. I think I need more to be convinced that it's a believable story, a story that real for the characters as real for me.
ARC was provided by the author/publisher via NetGalley in exchange for honest review.
Result: 2.5 out of 5 stars