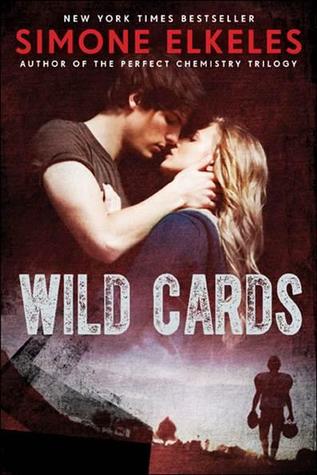 Blurb from Goodreads
After getting kicked out of boarding school, bad boy Derek Fitzpatrick has no choice but to live with his ditzy stepmother while his military dad is deployed. Things quickly go from bad to worse when he finds out she plans to move them back to her childhood home in Illinois. Derek's counting the days before he can be on his own, and the last thing he needs is to get involved with someone else's family drama.
Ashtyn Parker knows one thing for certain–people you care about leave without a backward glance. A football scholarship would finally give her the chance to leave. So she pours everything into winning a state championship, until her boyfriend and star quarterback betrays them all by joining their rival team. Ashtyn needs a new game plan, but it requires trusting Derek—someone she barely knows, someone born to break the rules. Is she willing to put her heart on the line to try and win it all?
Kindle Edition, 353 pages
Published October 1st 2013 by Walker Childrens
edition language: English
series: Wild Cards
genre: Contemporary, Romance, Young Adult
My Thoughts
As the sixth book of Simone Elkeles books I read, I have a high hope to this one. I think Perfect Chemistry series was one of the first YA series I read years ago, back when I didn't have a clue what YA books mean. I really liked it and it was fun to read. I also enjoyed reading Leaving Paradise series and fall in love with Caleb Becker and Maggie Armstrong. To be honest, I still reread them if I feel like I miss the characters. They are still enjoyable to read as when I first read them. Wild Cards is not the case.

The Characters
.
I find that the main characters aren't as strong as characters in both previous series. The blurb says Derek is a bad boy, I don't see it while it was easy to recognize who are the Fuetes brothers and Caleb Becker when I first read them. I don't mean Derek has to be in a gang member like the Fuentes brother to become a bad boy, it's just he seems couldn't decide whether he wants to be a bad boy, or a jock, or a jokester, or something else. I couldn't see him clearly.

And so does with Ashtyn. Derek says she's a warrior. She's indeed a badass as she's the captain of the football team but in a way I think Maggie is stronger than her. Maggie is a shy girl who has to walk in limp because of the car accident. Yet, she's more badass than Ashtyn because she knows what she wants and stands for it. Unlike Ashtyn who spend more than half of the book couldn't decide who she wants and what she has to do to achieve what she wants. And when she doesn't get it she's jealous and whines all the time. I think the characters don't have to be in gang member or being the captain of the football team to become badass characters. All they have to do is make up their mind of what they want to become and stand for it. That's enough for me to see them as badass characters.
The Writing
.
It's still told from first person. Both from the main characters POV like in other series but it feels different and isn't as engaging as in previous books. Derek and Ashtyn like to talk the same things over and over. Like Carlos and Kiara in Rule of Attraction, they like to challenge each other. While I really enjoyed Carlos and Kiara's banter, I can't say the same thing for Derek and Ashtyn. There are a lot of time when Derek tries to be funny but I don't think it funny enough to make me laugh or even just smile.
The Story
.
This book is supposed to be about football, well…at least that's what I thought when I see the cover and read the blurb. However, I don't read much about it. Ashtyn is the only female in football camp, Elite. But I don't see her describe it while she is there for a week. As a reader who isn't familiar with football, I expect to read about it to understand more and feel Ashtyn struggle as the only female in the camp. But I get nothing. If you want to read YA book with football as its story,
Catching Jordan by Miranda Kenneally
is much better than this one.
Everything in this book feels too fast and in a rush. It's like there is no time to develop the feeling for the characters. Thus, I don't buy it. Derek and his half-brother, Julian, relationship feels forced, unlike Carlos and Brandon relationship. In Carlos and Brandon relationship I feel it real because I can see the process. They need time to become close to each other while here, Derek barely knows Julian since they don't live in the same house before they move to Chicago. They rarely spend time together but suddenly Julian looks him like a hero, worship him and he feels like a big brother who has responsibility to his little brother. The same case happens in Derek and Ashtyn's relationship. Ashtyn spend more than half of the book by 'hating' Derek and suddenly, out of the blue she admits that she has a crush on him and is in love for a long time with him. I just couldn't buy it, though she and Derek keep telling me there is 'electricity' between them since the first time they meet.

All in all, most of the time I don't believe the story and the characters. I also don't enjoy it as much as I enjoy Perfect Chemistry and Leaving Paradise, though it still has same formula as previous series.
Result: 2 out of 5 stars