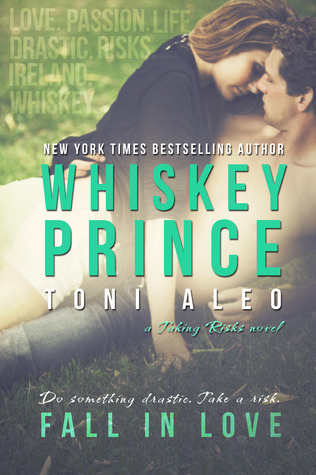 Blurb from Goodreads
Take a risk.
Do something drastic.
Fall in love.
When Amberlyn Reilly loses her mother, her whole world comes crashing down. Having been caretaker to her for most of her teenage years, Amberlyn is inexperienced in many aspects of life. She hasn't had time to live, have fun, or enjoy even the little things. It's only when a letter from her mother, asking her to fulfill three things, sends her off to Ireland to live a life she never thought possible that she begins to heal.
Declan O'Callaghan was born and raised in Ireland and has his family's legendary whiskey in his veins. He's shy and not a fan of the pressure and spotlight that comes with his family name, or the title he was given at birth—the Whiskey Prince. Declan knows just what he wants and that is to take over the family dynasty, but when his father gives him an ultimatum, everything he's worked for could come undone in the blink of an eye.
With six months to get married, the reclusive Declan spots Amberlyn across a lake and instantly feels the need to know her. Soon, the two find themselves traveling down a path neither expected. However, like any road, there are bumps and side streets to derail them. Can Declan help find the pieces that will make Amberlyn whole again? And will Amberlyn stay or run when she learns of Declan's deadline of marriage?
Kindle Edition, 255 pages
Published July 12th 2014 by Toni Aleo (first published July 2nd 2014)
edition language: English
series: Taking Risks
genre: Contemporary, Romance, New Adult
My Thoughts
I think Whiskey Prince is a nice book when I feel like I want to go somewhere else in between my works. It's an easy-light reading and is quite a page-turner book.

I liked that Amberlyn is willing to take a chance of what her mom wanted her to do. Despite she lives in a new place with people she barely knows, she seems enjoying her new life. Declan, as a hero is so sweet, gentle, understanding and all, the kind that make me swoon. Both of them are avid readers. I always love characters who love reading. They treasure books. They even love books I love.

In theory, I must fall in love with them, instantly. In reality, it was quite hard for me to connect with them. Both of them claim that they are shy, I for one didn't feel they shyness. Declan has problem meeting new people, he prefers to spend his time in his work at his soon-to-be land. Kane, Declan's bestfriend says that he's a hermit since he rarely mingles with people. He blames it to his shyness while I think he's nervous and is uncomfortable with people whom he doesn't know. I also couldn't grasp the idea that he's so famous, though he and other characters keep talking that people get silent and stare at him when he's around, journalists are watching him and taking his pictures and all that stuff that usually come to famous people. Amberlyn also says she's a shy girl while to me she seems confident enough to flirt with all of B&B customers. She also doesn't need time to befriend with anybody. If she thinks she's shy, then she hides it well.

Although the story is so predictable, the (sort of) Pride and Prejudice plot made me keep reading it. And Amberlyn and Declan relationship is so sweet. I think it supposed to make me have aww moments and swoon over they sweet talk about each other. At first, I liked it. They are indeed a cute couple but then it felt too much. Too much flowery words, too much compliments, too much cheesiness.

And the result is cringing, rolling my eyes and feeling like I want to gag. There is one particular word that they use so many times I thought I won't believe they are sincere when they say it. Beautiful.
A beautiful, ranch-style home is one of six that surround a large lake.
She is magnificent,beautiful, and I wish like hell I knew what color her eyes are.
"Yeah, you know, a lot of our beautiful town is full of women like that."
[…]to get lost in a good book on a beautiful summer day.
God, he has beautiful lips, and I swear his eyes are darker than normal again.
Dropping my hand from the beautiful horse, I turn and make my way to the field.
Basically most of things are beautiful in this book. Declan and Amberlyn's body; hair; eyes; lips; legs; each of their body part are beautiful. Their town is beautiful, her aunt house is beautiful, his horse is beautiful. Everything is beautiful. To sum it up they mentioned 102 beautiful things along the story.

In the end, I didn't quite like it as much as I thought I will when I picked it up. But I won't say that it wasn't an enjoyable book. It has enjoyable moments and was quite engaging in first part of the book. I guess it was an okay book, then.
Result: 2 out of 5 stars