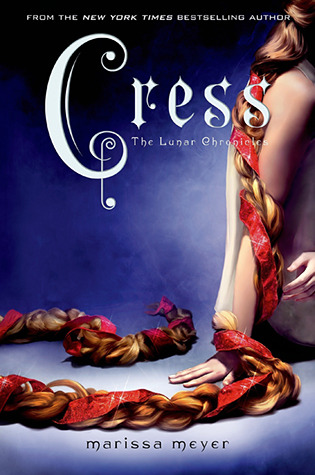 Blurb from Goodreads:
In this third book in the Lunar Chronicles, Cinder and Captain Thorne are fugitives on the run, now with Scarlet and Wolf in tow. Together, they're plotting to overthrow Queen Levana and her army.
Their best hope lies with Cress, a girl imprisoned on a satellite since childhood who's only ever had her netscreens as company. All that screen time has made Cress an excellent hacker. Unfortunately, she's just received orders from Levana to track down Cinder and her handsome accomplice.
When a daring rescue of Cress goes awry, the group is separated. Cress finally has her freedom, but it comes at a high price. Meanwhile, Queen Levana will let nothing prevent her marriage to Emperor Kai. Cress, Scarlet, and Cinder may not have signed up to save the world, but they may be the only hope the world has.
Kindle Edition, 551 pages
Published February 4th 2014 by Feiwel & Friends
edition language: English
series: The Lunar Chronicles
genre: Sci-fi, Romance, Young Adult
My Thoughts
After the awesome Scarlet, I have a very high hope to this book. I thought it'll be as awesome as Scarlet, well…don't get me wrong it is indeed a very good retelling. It just doesn't live my expectation, not that much.
First thing that I notice and made this book is quite different than the first two book is it is much more detail than both Cinder and Scarlet. It's a good thing actually, as I think I need more detail and explanation in Cinder's setting and worldbuilding. Unlike New Beijing, I can picture the Sahara desert and a couple places in Africa easily. The satellite and Rampion aren't hard to imagine either. Unfortunately it also makes the unnecessary things much more detail. There are a lot of things that I'm not sure I need to know that detail. Thus, it makes the book much longer than I think it needed. It feels dragged out in second and third part of the book.
As the main character, Cress is quite different from Cinder and Scarlet. She's so naive, though it's understandable since she spends most her life alone, trapped in a satellite. On the other hand, her naivete is sometimes annoyed me. It's like it's so hard for her to understand that real life on earth isn't as easy as she imagine. She keeps picturing herself becomes someone else in somewhere else. In a way, it's kinda cute but I'm also a bit bored when she does it so many times. Yet, at the end of the last page, I think I liked her as a character. She's an awesome hacker and her role is as important as Cinder and Scarlet. And I still love other characters, though Throne is more serious and reserve (I missed his personality in Scarlet) and Wolf's more emo here.
I really loved the way Marissa Meyer builds the story. The pace is perfect. Some chapters can make my heart beats fast while other chapters are quite calm and give me times to understand more about Lunar and their power. Although there are three different stories here, all of them have enough time to tell their story. I don't feel like one story overlap or overshadow others. It fits well. But I also have to say that I don't quite like things that seem too coincidence happen to the characters. It feels like they always end up at the right and/or wrong time in right and/or wrong places and just feels too easy for them.
It isn't the best of the series so far but I still love the Lunar Chronicles and can't wait for the next installment, Winter.
Result: 3.5 out of 5 stars