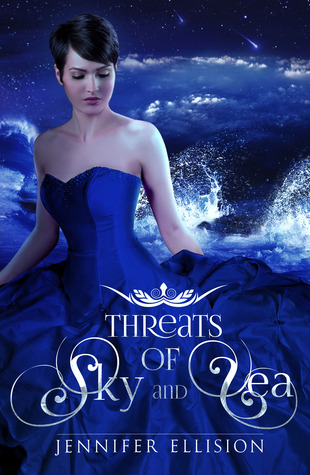 Blurb from Goodreads
Sixteen year-old Breena Perdit has spent her life as a barmaid, innocent to her father's past and happily free from the Elemental gifts that would condemn her to a life in the Egrian King's army. Until the day that three Elemental soldiers recognize her father as a traitor to the throne and Bree's father is thrown in jail—along with the secrets from his last mission as the King's assassin. Secrets that could help the King win a war. Secrets he refuses to share.
Desperate to escape before the King's capricious whims prove her and her father's downfall, Bree bargains with him: information for their lives. It's a good trade. And she has faith she'll get them both out of the King's grasp with time.
But that was before the discovery that she's the weapon the King's been waiting for in his war.
Now, time is running out. To save her father's life and understand her own, Bree must unravel the knot of her father's past before the King takes his life– and uses her to bring a nation to its knees.
Kindle Edition
Published May 20th 2014 (first published May 16th 2014)
edition language: English
series: Threats of Sky and Sea
genre: Fantasy, Young Adult
My Thoughts
ARC was provided by the author/publisher via NetGalley in exchange for honest review.
Some readers recommended this book to readers who love Throne of Glass The blurb says it's about element possession which reminds me of Elemental Series by Brigid Kemmerer. Therefore, I didn't have high hope to this debut, though it also intrigued me and made me requested it on NetGalley.
It indeed reminds me of both Thorne of Glass and Elemental series. There are moments that made me think of them. Fortunately the similarities aren't that much. It has its own story. And surprisingly is a very good one.
For one thing I love Breena Perdit, a 16 years old girl who lives in a small town with her dad who runs a tavern.
"Got a name?" I ask. I bite at a frayed nail. Maybe he's a wealthy merchant's son. The fibers in his cloak are certainly finely wrought enough.
"Breena," he repeats thoughtfully, finger to his chin.
"No," I say slowly, drawing the word out. "You can't have 'Breena.' That one's mine. Any other ideas?"
She's smart, bold, witty, knows her priority and stick for it and doesn't care much about her appearance nor her hair and her dress.
[…]I sigh, running my fingers through my hair to shake out any excess moisture. They despair over the length of it—or, rather, the lack of length. Apparently, it's the highest of fashion crimes for a woman to have such short hair.
A kickass heroine qualities that I love. Her life turns upside down when she eavesdrop a conversation between the three Adepts, people who possess an element power. Soon she discovers everything isn't what she thoughts before. As a character, she grows so much throughout the story. From a girl who has been known as Barmaid, Bree or as she said when I got my most shining personality on, Brat, to someone who befriend with a princess even when she's so rude to her and a girl who always tries to help her dad escape from the tyrant king. In a way she's also naive. There are times that I want her to stop waiting for things to happen and just act. But all of her action are make sense and understandable since she barely knows anything. Thus, I can accept her naivety and don't feel annoy by it.
Aside Breena, I love her dad, Ardin, and their relationship. Their father-daughter relationship feels warm and they treat each other equal.
"Oh no, please, don't get up." I put syrup in my voice as Da continues to sit. "I wouldn't want to trouble you. You might lose what little hair you have left."
"It's off to bed with me. If you'll do the sweep up, I'll do the morning scrub down."
He keeps everything to himself, even when she begs him to tell his story. It makes the story more interesting. Most of the times everything is still unclear and is revealed slowly which make me keep reading it. As for other characters, they are growing in me slowly but surely. Aleta, Princess who is betrothed to Prince Caden, the heir of Egarian, is so annoying I want to throttle her while Prince Caden is easier to like from the first time he enters the story. And then there is Tregle, an Adept who capture Breena and her dad along with his mentor, Lady Katerine. They play their role perfectly.
I also love the way the author creates the story and the world building. It's well written and is describe well. It's easy to imagine Breena's world and the elements that are possessed by the Adepts. I especially liked the way they called Adept who possessed an element. Torcher for fire Adept, Rider for air Adept, Shacker for earth Adept and Thrower for water Adept. I think it suits well with each elemental.
Although some readers say it has lack of romance, I don't mind at all because that way I can see that Breena hold her priority high. She doesn't let anything distract her, even if it's her romance. But worry not, the story is still appealing. There are romantic moments between the characters, though compare to any other YA fantasy, it indeed has less romance.
All in all, I really liked it and can't wait to read the sequel.

Result: 3.5 out of 5 stars