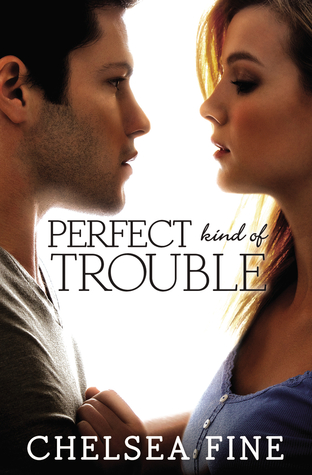 Blurb from Goodreads
Sometimes when perfect falls apart, a little trouble fixes everything . . .
Twenty-one-year-old Kayla Turner has lost everything. After spending most of her life taking care of her ailing mother, she just wants to spot a glimmer of light at the end of the tunnel. So when her late father-a man she barely knew-leaves her an inheritance, she finally breathes a sigh of relief . . . until she learns the inheritance comes with strings. Strings in the form of handsome playboy Daren Ackwood, her father's protégé. To see any of her inheritance, she's forced to team up with him. From his expensive car to those sexy dimples, Kayla's seen his type before. But Daren isn't who he seems to be . . .
Struggling to make amends for his family's mistakes, Daren has a life more Oliver Twist than Richie Rich these days. He's beyond grateful that James Turner included him in his will, but working with Turner's princess of a daughter to fulfill his cryptic last wish is making Daren wonder if being broke is really so bad. Still, she's just as beautiful as she is stubborn, and the more time he spends with Kayla, the less it feels right being without her. Soon Daren and Kayla begin to wonder if maybe the best gift Kayla's dad could have left them . . . was each other.
ebook, 336 pages
Published June 17th 2014 by Forever
edition language: English
series: Finding Fate
genre: Contemporary, Romance, New Adult
My Thoughts
I think this second book of Finding Fate series is better than Best Kind of Broken. I more enjoyed reading it and didn't bore me, things that I felt in Levi and Pixie's story.

I liked the way Chelsea Fine tells the back story of Kayla and Daren. It's told through the scavenger hunt that they have to do and letters and/or quotes from Kayla's father, James Turner, can trigger their memory. That's when they mostly tell me about their past. It felt like each letter and/quote connect to their younger life. I also really enjoy their scavenger hunt. It's so much fun and since I love scavenger hunt myself, it makes me wondering about the clues with Kayla and Daren.

However as much as it's an interesting scavenger hunt, I think the handcuffs thing is kinda ridiculous. I didn't quite believe that James makes Kayla and Daren handcuffs each other while they are barely know each other in the first place.
Result: 3 out of 5 stars