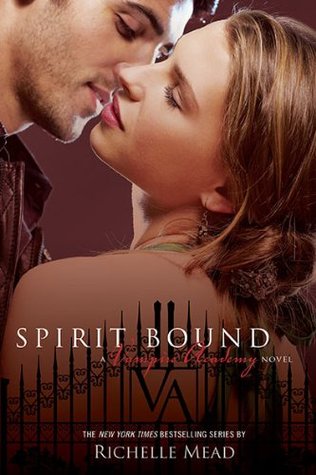 Blurb from Goodreads
Dimitri gave Rose the ultimate choice. But she chose wrong…
After a long and heartbreaking journey to Dimitri's birthplace in Siberia, Rose Hathaway has finally returned to St. Vladimir's-and to her best friend, Lissa. It is nearly graduation, and the girls can't wait for their real lives beyond the Academy's iron gates to begin. But Rose's heart still aches for Dimitri, and she knows he's out there, somewhere.
She failed to kill him when she had the chance. And now her worst fears are about to come true. Dimitri has tasted her blood, and now he is hunting her. And this time he won't rest until Rose joins him… forever.

Paperback, 489 pages
Published February 22nd 2011 by Razorbill (first published January 1st 2010)
edition language: English
series: Vampire Academy
genre: Paranormal, Romance, Young Adult
My Thoughts
I started reading Vampire Academy series years ago, a few years after I read Twilight. At first I was kinda hesitant to read it after my not-so-good experience with Twilight but my friends convince me that it's a good series. I picked Vampire Academy up just to shut my friends up 😀 And then Rose Hathaway shut me up with her kickass attitude and her wth-I-don't-care-what-you-think-of-me personalities. She is the main reason I really liked the series.
Then two years ago I read book 4, the one that I really looking forward after major cliffhanger in book 3. Turn out what I was looking forward didn't live my expectation. Rose Hathaway in Blood Promise wasn't the kickass heroine I know from the first three books. I was so disappointed and (once again) hesitant to pick its sequels up.
When I finally picked this book up, I kinda wished that Rose will be back to the Rose I love, not Rose from Blood Promise. Unfortunately she's still true to her personalities that I didn't quite like. She likes to whine and gets all emo every time she faces Dimitri. She keeps telling me seeing him as a Strigoi had been hard for her. I know she loves him but reading that particular sentence over and over was so annoying. She's self-center and takes everything and everyone for granted.
After 4 books, I thought she can be more mature and responsible. But nope, she's still reckless and in the process she drags her friends down and doesn't even realize it. As a guardian, I really hope she acts like a true guardian, the guardian whom Dimitri taught in St. Vladimir. But I never see her as a guardian here. She's still Rose I-don't-care-what-you-think-of-me from St. Vladimir. And it really annoying and frustrating me!
If it wasn't because my promise to finish series I've started and its spin-off, Bloodliness series (love Adrian!), I might not finish this series. But here I am, reading book 5 and so eager to read final book just so I can read Bloodlines series.
Result: 2.5 out of 5 stars