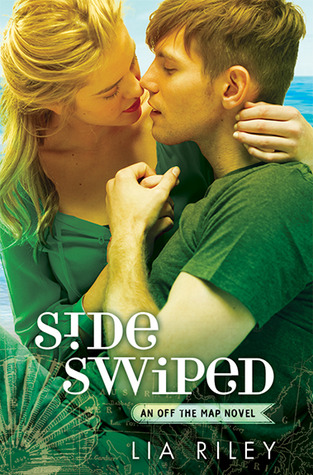 Blurb from Goodreads
It was only meant to last the summer . . .
Talia Stolfi has seen more than her share of loss in her twenty-one years. But then fate brought her Bran Lockhart, and her dark world was suddenly and spectacularly illuminated. So if being with Bran means leaving her colorless NorCal life for rugged and wild Australia, then that's what she'll do. But as much as Talia longs to give herself over completely to a new beginning, the fears of her past are still lurking in the shadows.
Bran Lockhart knows that living without the beautiful girl who stole his heart will be torment, so he'll take whatever time with her he can. But even though she has packed up her life in California and is back in his arms for the time being, she can't stay forever. And the remaining time they have together is ticking by way too fast. Though fate seems determined to tear them apart, they won't give up without a fight—because while time may have limits, their love is infinite . . .
ebook, 384 pages
Published October 7th 2014 by Grand Central/Forever
edition language: English
series: Off The Map
genre: Contemporary, Romance, New Adult
My Thoughts
ARC was provided by the author/publisher via NetGalley in exchange for honest review.
After I read Upside Down, I thought I couldn't love Talia and Bran more. But they proved me wrong. They are awesome I feel like I love them even more now.
"I'll fight for you." I press my lips to his damp cheek. "I'll never stop fighting for you."
Talia, she's one tough-brave girl. When I read about her mental illness in first few chapters, I thought this sequel is all about it. I love reading about mental illness. Most of them teach me a lot of things, make me see and think differently. So yeah…I liked that both Talia and Bran finally pay more attention to it. At the same time I want it to be described more. I was kinda hope it has bigger part in the story, though it isn't the main focus of their story. Maybe in next installment? I hope so. One thing I love from Talia is she knows what she wants and she sticks with it. She doesn't let her love turn her priority. I don't mean that she doesn't love Bran enough. I just think that her choice needs guts and yet she stays with it. No one, not even Bran can change her mind. For that I admire her.
Bran, as sweet as he can be, to be honest, I didn't quite like him. He's too clingy and made the same mistake as in Upside Down, though I still understand his reasons. His fear in losing Talia makes him holds her tight, barely gives her room for herself. But strangely I also love him too. He feels different than other hero in most of NA books I've read. He lets me see his vulnerability without being too emo and mellow. And I just love how in love he is with Talia and his willingness to give everything for her. I guess my romantic side melted with his stubborn love 🙂
As for the story, I think it's "deeper" than Upside Down. Talia and Bran's relationship isn't easy to deal with. There are so many things that seem keep them away from their happily ever after. From Talia's visa (at first I thought it would be like Like Crazy movie) to their perspective about love. I liked that it's told from Talia and Bran's POV, equally. One chapter from Talia's POV and then another from Bran's. It continues like that till the last chapter, unlike in Upside Down which was told mostly from Talia's POV. This way makes me more understand Bran, about his love and relationship with Talia and also about his family.

However, I also have things that I'm still unclear, undecided whether they are important to the story and have connection with it. And there are things that seem too easy for the characters I wonder whether it's that easy in real life.

All in all, despite those undecided things, I really enjoyed reading this series. In fact, I couldn't wait to read book 3, Inside Out which fortunately also will be released this year. So happy I don't have to wait longer to read Talia and Bran's journey.
Result: 3.5 out of 5 stars