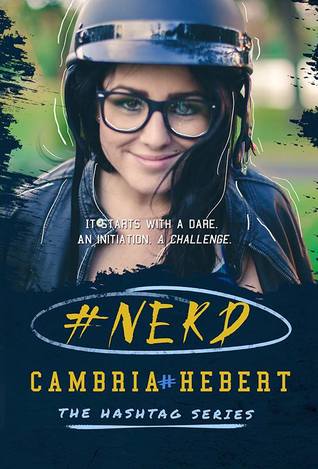 Blurb from Goodreads
Two people from completely different worlds are about to be thrown together…
In more ways than one.
She wants to keep her scholarship. He wants to stay on the team. An awkward alliance doesn't even begin to cover Rimmel and Romeo's relationship.
But that's about to change.
It starts with a dare. An initiation. A challenge.
Quickly, it turns into more. But when you're a victim of your status, there is no room for anything real. The rules are clear and simple.
Stick to your circle.
And never fall in love with anyone on the outside.
Kindle Edition
Published November 1st 2014 by Cambria Hebert Books, LLC
edition language: English
series: Hashtag
genre: Contemporary, Romance, New Adult
My Thoughts
I liked this kind of story. And it's been a while since I read an engaging popular jock whose falls in love with a nerd story.

Actually there's nothing new in Romeo and Rimmel's story. I bet you can guess it just by reading its blurb. And yet I can still enjoy it. They story might not an original one, far from it, but it was so engaging I couldn't stop reading it. It was one sitting kind of book.

I really liked Romeo and Rimmel and other supporting characters. Both Romeo and Rimmel are lovable in their own way. I usually don't like clumsy kind of heroine, but reading Rimmel clumsiness was just so adorable I found myself smiling and giggling over her while I liked Romeo because he doesn't play like a bad boy kind of hero. I'm taking a break from them now, so it was so nice reading a good popular jock whose falls in love with a clumsy nerd girl story. As for other supporting characters, Ivy, I liked that she isn't the typical jealousy girl who wants to get herself with the hero. I think she's a good friend for Rimmel. And for Missy, I didn't know her well as she doesn't have much role here, but am curious of her relationship with Breaden, Romeo's bestfriend. I'm also looking forward for Breaden's story in #Selfie. I just hope I don't have to wait too long till I get his story, though I can't wait for another Romeo and Rimmel's stories. And I wish Missy and Breaden's relationship last longer than just in here. Yes, it means I want them to be together in Breaden's story 🙂

I also enjoyed one teeny tiny thing that the author put in the story, the BuzzFeed kind of notification that she put at the beginning of every chapter. It's entertaining and made me felt like reading really notifications. However I think there's one inconsistency between chapter 20 and 21's BuzzFeed notification. It might be a little thing that I can ignore but it was kinda bother me, to be honest. And I didn't quite satisfy with the ending. I felt like it ended abruptly and in a rush. I still liked it, though. And looking forward for book 2.

Result: 3 out of 5 stars