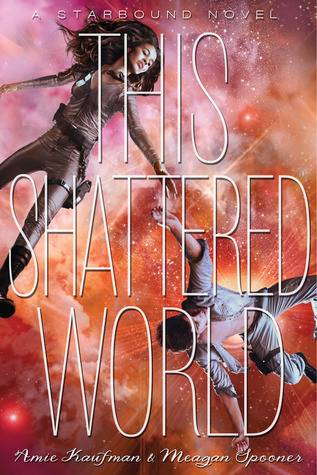 Blurb from Goodreads
The second installment in the epic Starbound trilogy introduces a new pair of star-crossed lovers on two sides of a bloody war.
Jubilee Chase and Flynn Cormac should never have met.
Lee is captain of the forces sent to Avon to crush the terraformed planet's rebellious colonists, but she has her own reasons for hating the insurgents.
Rebellion is in Flynn's blood. Terraforming corporations make their fortune by recruiting colonists to make the inhospitable planets livable, with the promise of a better life for their children. But they never fulfilled their promise on Avon, and decades later, Flynn is leading the rebellion.
Desperate for any advantage in a bloody and unrelentingly war, Flynn does the only thing that makes sense when he and Lee cross paths: he returns to base with her as prisoner. But as his fellow rebels prepare to execute this tough-talking girl with nerves of steel, Flynn makes another choice that will change him forever. He and Lee escape the rebel base together, caught between two sides of a senseless war.
ebook
Published December 23rd 2014 by Hyperion
edition language: English
series: Starbound
genre: Dystopian, Romance, Young Adult
My Thoughts
I really like the first few chapters in this book, though Jubilee and Flynn remind me of Legend a lot. It's so engaging. Jubilee, is kickass heroine and so does Flynn. Those chapters attract me I even felt like this is so much better than These Broken Stars. But then unfortunately it's falling slowly into the boringness.

My biggest problem was Jubilee and Flynn back and forth feeling regarding their role. They are meant to have a star-crossed kind of relationship, I know that, and I understand when they feel conflicted but when it happens so many times, I cannot avoid feel bored. Add it with the push and pull relationship between both of them. And how things often come too easily for them I ended up skipping pages, mostly in the middle of the story. I just felt the story was going nowhere while I was so eager to finish. And when I skip pages or just skim the book it never a good sign for me.

On the other hand, I think Jubilee and Flynn's story is more interesting than Lilac and Tarver's. It's more complex and has more actions, though maybe it's because there are more characters in it than in These Broken Stars. I really liked how the authors connect Jubilee and Flynn with Lilac and Tarver. It makes the story intertwine each other and become a whole series. Something that I never thought when I knew that book 2 of Starbound series isn't about Lilac and Tarver anymore. I also like how Jubilee's past plays role in her present. And I did like the way she tells her past, though it's still unclear for me.

Although this series isn't that impressive for me I can't wait to read the final book. It has to be epic since there are big things that still left unsolved.
Result: 2.5 out of 5 stars
Reading Challenge:
– GoodReads: Book #4
– YA Buddy Readers' Corner ♥: Finish at least 5 series I've started.
– Popsugar: A book set in the future