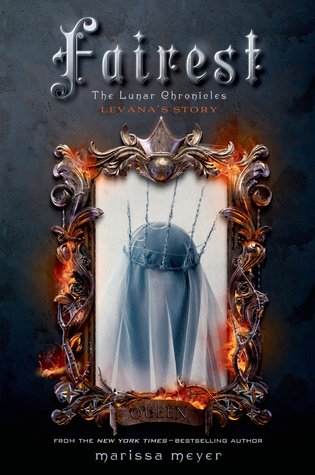 Blurb from Goodreads
Mirror, mirror on the wall,
Who is the fairest of them all?
Fans of the Lunar Chronicles know Queen Levana as a ruler who uses her "glamour" to gain power. But long before she crossed paths with Cinder, Scarlet, and Cress, Levana lived a very different story – a story that has never been told . . . until now.
Marissa Meyer spins yet another unforgettable tale about love and war, deceit and death. This extraordinary book includes full-color art and an excerpt from Winter, the next book in the Lunar Chronicles series.
Hardcover, 222 pages
Published January 27th 2015 by Feiwel & Friends
edition language: English
series: The Lunar Chronicles
genre: Dystopia, Retelling, Romance, Young Adult
My Thoughts
"Have you ever been in love? Horrible isn't it? It makes you so vulnerable. It opens your chest and it opens up your heart and it means that someone can get inside you and mess you up. You build up all these defenses, you build up a whole suit of armor, so that nothing can hurt you, then one stupid person, no different from any other stupid person, wanders into your stupid life…You give them a piece of you. They didn't ask for it. They did something dumb one day, like kiss you or smile at you, and then your life isn't your own anymore. Love takes hostages. It gets inside you. It eats you out and leaves you crying in the darkness, so simple a phrase like 'maybe we should be just friends' turns into a glass splinter working its way into your heart. It hurts. Not just in the imagination. Not just in the mind. It's a soul-hurt, a real gets-inside-you-and-rips-you-apart pain. I hate love."
― Neil Gaiman, The Sandman, Vol. 9: The Kindly Ones
This is a story about love, a love that causes jealousy, hurt and madness. Levana craves love; from her parents who never able to show it to her, from her older sister who is cunning even in earlier age and most importantly from a man that attracts her from the first time she met him. She has love she's willing to share yet she doesn't have anyone to share with.
Levana as all we know is an evil antagonist in The Lunar Chronicles. So evil I want her to meet her end in a very hurtful way. But somehow, I can guess that there is a story, her reason, why she acted the way she did. I'm glad she has her own story, as I know her more well now. I think it's a sad story, as sad as Disney's live-action Maleficent. I feel sorry for her, but it doesn't mean that I forgive her for all of her cruelty. What she did is beyond reason and unforgivable. But that's the best thing about this book. It can make me sorry for her as much as hate her at the same time.
As a bridge between book 3 and 4 (or is it a prequel of book 1?) I already knew most of the things in the story. Reading it is like putting the puzzle of who is who and what they will become in next books, one by one. I think it's good because it means that it intertwines with a whole Lunar Chronicles books. But in a way it's also kinda boring. There is a time when I wish I get surprise from the story, just so I feel like I get something else something different in the story. So it is good Levana is a strong character. She can make me bear a bit of boredom and turn it into engaging story.
Although there isn't much happens here, at least not much if I compare with other characters in Lunar Chronicles' story, I think Levana's story is stronger than Cress' and probably more complex than Cinder and Scarlet's story. Now I can't wait to read the final one, Winter.
Result: 3.5 out of 5 stars
Reading Challenge:
– GoodReads: Book #17
– YA Buddy Readers' Corner ♥: Finish at least 5 series I've started.
– Popsugar: A book based entirely on its cover