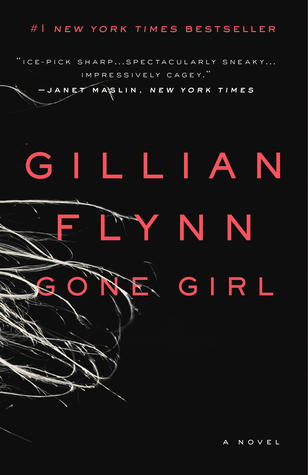 Blurb from Goodreads
On a warm summer morning in North Carthage, Missouri, it is Nick and Amy Dunne's fifth wedding anniversary. Presents are being wrapped and reservations are being made when Nick's clever and beautiful wife disappears. Husband-of-the-Year Nick isn't doing himself any favors with cringe-worthy daydreams about the slope and shape of his wife's head, but passages from Amy's diary reveal the alpha-girl perfectionist could have put anyone dangerously on edge. Under mounting pressure from the police and the media—as well as Amy's fiercely doting parents—the town golden boy parades an endless series of lies, deceits, and inappropriate behavior. Nick is oddly evasive, and he's definitely bitter—but is he really a killer? 
Paperback, 422 pages
Published April 22nd 2014 by Broadway Books (first published June 2012)
edition language: English
genre: Mystery, Thriller, Adult
My Thoughts
What are you thinking, Amy? How are you feeling? Who are you? What have we done to each other? What will we do?
Nick and Amy Dunne are one fucked up couple
I know that this book has lots of twists with wicked characters, both main female and main male character. So I kinda prepared myself to not fall into one of them or believe what they or one of them say. And I really did try to guess and see everything they told me so that I won't be that surprised when I face those twists.

But the thing is the way Gillian Flynn wrote was so damn believable I cannot help not to fall to the characters. So in some part I felt sorry for Amy and really, truly, honestly hate Nick. And in another part I felt the opposite. It was just so weird I can't decide which one I most love or hate. And at the same time the twists were still surprising, even after my friend told spoiler to me. So yeah…this is just that good!

I also really liked the characters. The two different POV made me see them as very different characters. And they play their role well, I have love to hate and hate to love relationship with them along the story. I hate Nick for what he did in their marriage while at the same time I can see (and understand, though am disagree) why he did it. And so does with Amy, I understand the reason she did what she did, and at the same time I think she's crazy-manipulative woman. I know this might sound crazy and weird but I admired her, especially in part two. She's smart, manipulative and cunning. I liked her POV much more than Nick's because her POV can deceive me and kept my mind thinking and guessing of the story.

At the same time, I didn't quite like her in last few chapters of part two. I felt like it wasn't Amy's POV that I admire in first chapters of part two. It was like she turned into indifferent character. She isn't that cunning anymore and rather silly and unprepared than a smart and thinking ahead woman. She's just another case of rich girl who doesn't know what to do outside her comfort zone. And the result was I felt like the story drag on, before it backs on track in part three.

All in all, as my first experience of Gillian Flynn book, I won't forget Amy and Nick story easily. And they won't be the only characters I read from Ms. Flynn. Now I'm gonna buy and read her previous books, for sure.
Result: 4 out of 5 stars