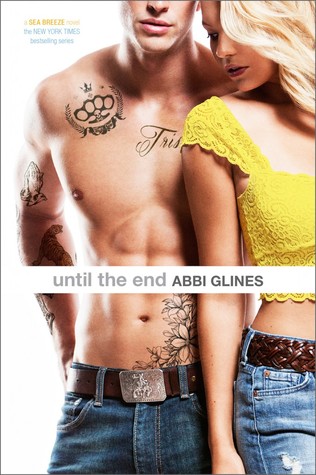 Blurb from Goodreads
The backstory that fans have been clamoring for—how Rock and Trisha fell in love—is the final installment in the Sea Breeze series from New York Times bestselling author Abbi Glines. And don't miss the sizzling Epilogue, where Abbi wraps up all the Sea Breeze couples' stories!
Trisha Corbin always knew how to hide a bruise. With her momma's boyfriends unable to keep their hands off of her, she had no choice. And as long as it meant the guys wouldn't go near her little brother, Krit, it was worth it. But her days of dreaming that Prince Charming would ever come rescue her are far, far in the past.
Rock Taylor always had a plan. Through football, he would rise above the life he was born into. A full ride to play for a major college team was within his reach—assuming he didn't let anything get in his way. But scoring a date with the hottest girl in Sea Breeze was proving harder than expected. Trisha Corbin was every man's walking fantasy, and she wouldn't even glance his way.
When Rock finally does get Trisha in his truck, it isn't for a date. It's because he picks her up on the side of the road, beaten and bruised and walking to the local hospital. Before Rock knows it, football is no longer his life. Trisha Corbin is. And he'll do anything to save her. And keep her.
In addition to Rock and Trisha's love story, this special novel contains the wrap-up stories of all your favorite Sea Breeze couples: Sadie and Jax, Marcus and Low, Cage and Eva, Preston and Amanda, Jess and Jason, Krit and Blythe, and Dewayne and Sienna.
Kindle Edition, 271 pages
Published October 28th 2014 by Simon Pluse (first published October 14th 2014)
edition language: English
series: Sea Breeze
genre: Contemporary, Romance, New Adult
My Thoughts
When I knew this book is the last one of Sea Breeze series, I was kinda looking forward to it. I can't wait to finish the series so I can start a new one. And I think Trish and Rock being the last one is suitable as they seem more mature than any other couple, maybe it was because they are the first couple who married among the characters. And then I heard that the book is also contains other characters story which I also looking forward since I'm still curious of their present life.

What surprised me was I didn't expect other characters from previous books have as big story as in this book. I thought they will only appear in a glimpse in the Taylors' story. But what I got was a bunch of novellas about Jax and Sadie, Marcus and Low, Preston and Amanda, Jason and Jess, Krit and Blythe, Dewayne and Sienna, and Cage and Eva. So all of Sea Breeze heroes and heroines got to tell their story after their happily ever after book.

At first I was excited to read it, but then after 4 novellas I didn't think that way anymore. They are similar to each other and always end up with the same thing. It's like their drama in it is just a way for them have a make-up sex. So I got to read about 1) misunderstanding in Jax and Sadie novella (which I admit that it was kinda good drama in the beginning but reading how easy it is solved changed my mind) and Preston and Amanda (their misunderstanding was quite good, I think. At least I was more enjoyed it than Jax and Sadie's). 2) Insecurity in Jason and Jess and Krit and Blythe novella. Jess's insecurity is still the same as in her own book, Misbehaving. It was just with different setting while Krit's insecurity is understandable. But it feels like it was there so that there is conflict in their relationship because it was kinda overshadowed by another story from other minor characters, a story that I found quite interesting (and might be a new series from the author).

And then the (supposed to be) main part of this book, Rock and Trisha's story. At the beginning it was good. I was excited but I soon lost my interest because Rock is just like any other heroes in Sea Breeze. After 8 books, they are just the same with different name. All of them are bad boy who are tamed by good girls, well…except in Jess and Jason's case. I don't mind reading bad boy story, I like it, to be honest. But if I have to read it in each book, I'm kinda bored too, you know. I found there are at least three good boys in the series, I liked them all (Jeremy, Cam and Davey) but they are either just a friend or a third wheel for Sea Breeze heroes and heroine. So they are only there just to be the hero's punching bag or just so they realize that they love the heroines.

I just realized that reading Sea Breeze series is like watching Beverly Hills 90210. Everyone sleeps with everyone. This rule didn't apply for the heroines, though, since they are good-naïve kind of heroines, except Jess. And it's okay calling a woman a slut because she sleeps around while the heroine doesn't mind sleeping with her hero though he slept with most women in Sea Breeze. And finally, I've made it! I finished the series! Yay!
Result: 2 out of 5 stars