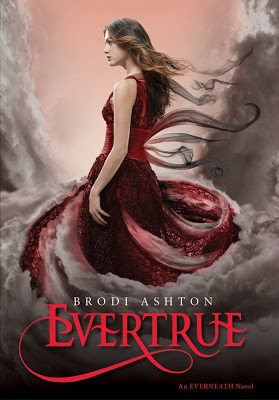 Blurb from Goodread
Now that Nikki has rescued Jack, all she wants is to be with him and graduate high school. But Cole tricked Nikki into feeding off him, and she's begun the process of turning into an Everliving herself… which means she must feed on a Forfeit soon — or die.
Terrified for her survival, Nikki and Jack begin a desperate attempt to reverse the process using any means possible. Even Cole, who they expected to fight them at every turn, has become an unlikely ally — but how long can it last? Nikki needs to feed on Cole to survive, Cole needs Nikki to gain the throne in the Everneath, Jack needs Nikki because she is everything to him — and together, they must travel back to the Underworld to undo Nikki's fate and make her mortal once more. But Cole isn't the only one with plans for Nikki: the Queen has not forgotten Nikki's treachery, and she wants her destroyed for good. Will Nikki be forced to spend eternity in the Underworld, or does she have what it takes to bring down the Everneath once and for all?
In this stunning conclusion to the Everneath trilogy, Brodi Ashton evokes the resiliency of the human spirit and the indomitable power of true love.
Kindle Edition, 336 pages
Published January 21st 2014 by Balzer + Bray
language edition: English
series: Everneath
genre: Fantasy, Romance, Young Adult
My Thoughts
Yes, Nikki, not only queen Adonia, I can also see you. I see your journey from the Everneath to the Surface and back again to Everneath and then another trip to the Surface to end up again in Everneath. Yes, I follow you from book 1 to this book in less than a month. And yes, it means that I read your first journey long after the hype. Although it wasn't great, I think it can be awesome so I still follow your journey till the end.

The thing is I don't quite like you in first two books. To me you're a whinny ungrateful heroine. But again I still read your story. I'm kinda wish that after back and forth between the Everneath and the Surface you will change into someone I can love. But you're still you. Well…maybe it's just you being who you are but after three books who you are are annoying the hell out of me. I thought you can be braver, wiser and more responsible after so many things happened to you. And why do you often repeat what is told to you again and again and still doesn't understand it? when you repeat it once or twice just to make sure of it, I can understand it but when you talk the same time more than twice, you're kinda insult me because it makes me think that you're not sure that I can understand what you and other characters talk. You and also other characters have a habit that I don't like. You guys love talking and rambling about everything very much. I think the main thing of this book is only in a few chapters toward the end.

I also have to say that I don't like Jack either here. Well…I don't quite like him before since I couldn't connect to him in the first place. In this book, he's just so overdramatic (?) He's like another drama queen to me. Yes I'm aware that this book is also, if not mostly, about romance but reading his undying love profess to you and the way he act like a caveman while you don't have any choice is very annoying.
The only think I liked from this book is Cole. I don't even pay attention to the action scenes anymore since most things are annoying and frustrating from the beginning. Actually I don't care about the love triangle either. I'm fine with whoever you choose but I can't see that you and Jack are meant to be together while I think you and Cole are perfect. I liked him more than I like any other character, including you, Nikki. I can connect to him, understand him and he's a believable character to me.
Result: 2 out of 5 stars