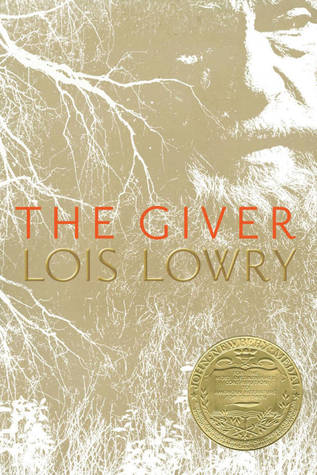 Blurb from Goodreads
The Giver, the 1994 Newbery Medal winner, has become one of the most influential novels of our time. The haunting story centers on twelve-year-old Jonas, who lives in a seemingly ideal, if colorless, world of conformity and contentment. Not until he is given his life assignment as the Receiver of Memory does he begin to understand the dark, complex secrets behind his fragile community.
Kindle Edition, 240 pages
Published April 26th 1993 by HMH Books for Young Readers (first published 1993)
edition language: English
series: The Giver Quartet
genre: Dystopia, Children/Middle grade
My Thoughts
The community was so meticulously ordered, the choices so carefully made.
To be honest, I read this book because I want to watch the movie version. Based on its trailer, I thought the book is a young adult book. So you can imagine how surprised I was when I know that it's a children/middle-grade book. And Goodreads put it under dystopia list. Most of children books I read were fantasy. So this is the first one for me and let me tell you that it's more frightening than any YA dystopian books I've ever read. Yes, it's even scarier than The Hunger Games trilogy. I think what scared me the most in Jonas world is the rules. I'm not a rule-breaker kind of person, though I'm not an abiding rule person either, but the idea that my life is controlled by rules is really frightening. I don't get a choice of who will be my husband, my children, my jobs, not even my bicycle. The rules in Jonas world, or community as he knows it, take to a new level.
Jonas lives in a community where everything is monitored and controlled by the rules. He got his own family by the age of one, had his "independence" and responsibilities when he was eight. By the time he was nine, he got his bicycle. His first hair cut was when he was ten. And he will assign for his job when he's twelve. If he wants to have a spouse, he has to apply to the committee whom will choose his spouse, when he reaches his adult age. When they marry, they have to apply to get a child. And then their child will start the same circle.
I really liked the way it's written. It's slow-paced but that way I can see the difference between Jonas before the Assignment and after he receive his assignment. And he is so easy to connect. First part where he doesn't know the truth feels like an ideal community. Everything and everyone live peacefully and in order. There are no differences, everything and everyone is the same. But I also feel like they aren't real human. While in second part, where Jonas knows the truth feel like more real and colorful. It made me questioning the ideal community Jonas lives. Is it really an ideal community when the citizen doesn't have a choice? And knowing that human can make mistakes with their choices, should they have it in the first place? I really liked the contradictory in it. Everything that Jonas chooses has consequences, even if he chooses nothing.
As I reach the final page, I can see that the movie trailer doesn't look anything like the book. It is way different, not only in Jonas age but I also don't recognize most of the scenes in the trailer. In the end, I don't care whether it is children or YA book as I really enjoy reading it (with my adult eyes and mind). So I think I can see the movie and the book as different thing too.
Result: 4 out of 5 stars