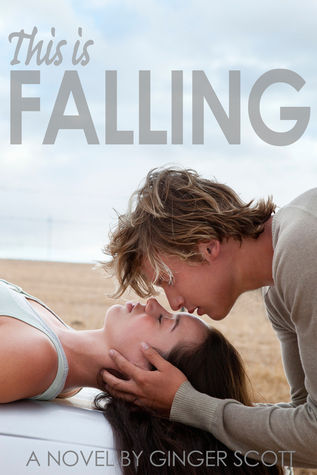 Blurb from Goodreads
First, I had to remember how to breathe. Then, I had to learn how to survive. Two years, three months and sixteen days had passed since I was the Rowe Stanton from before, since tragedy stole my youth and my heart went along with it.
When I left for college, I put a thousand miles between my future and my past. I'd made a choice—I was going to cross back to the other side, to live with the living. I just didn't know how.
And then I met Nate Preeter.
An All-American baseball player, Nate wasn't supposed to notice a ghost-of-a-girl like me. But he did. He shouldn't want to know my name. But he did. And when he learned my secret and saw the scars it left behind, he was supposed to run. But he didn't.
My heart was dead, and I was never supposed to belong to anyone. But Nate Preeter had me feeling, and he made me want to be his. He showed me everything I was missing.
And then he showed me how to fall.
*This is a standalone in a three-part series that will focus on different characters. Each book can be read on its own.
Kindle edition, 281 pages
Published August 29th 2014
edition language: English
series: Falling
genre: Contemporary, Romance, New Adult
My Thoughts
ARC was provided by the author/publisher via NetGalley in exchange for honest review.
This is Falling is my second Ginger Scott book. And I have to say that I love it much more than Waiting on The Sidelines. I love Rowe and Nate story, though I have to say that it's also like typical NA story I've read. But still I enjoyed it very much.
Rowe story is so heartbreaking. Reading it, mostly in first part of the book was breaking my heart. It's been a while since I read a heartbreaking NA story and her story got me since the first chapter. I can't imagine what she had been through yet at the same time I can feel her feelings well. The way she tells her story is so raw and clear. I got to see her fear vividly. Her anxious and panic attacks feel real. Everything feels real. I'm so sad for her and also proud of her because I think she's so brave. She's so brave to try to move on while at the same time she's also so afraid to do it. She conquers her fear one at each time and slowly so that I can see her changes throughout the story.
Nate, as her love interest is just so damn perfect, though he also made me think too perfect to be true. Everything in him takes the swoon worthy hero in NA books to the next level. Scratch that. I do have something that I didn't quite like from him. But he's so persistent and never gives her up but he's also willing to take a risk to make her happy and feel better. And it made me sad for him and yet I can't help not to fall for him too.
And other characters, I couldn't ask for more. Every single one of them is perfect. I love Ty. He's so funny and has a big heart, though I can feel that he's trying to hide it. Cass is so different from Rowe yet she's perfect for her. Their relationship is so sweet. I was thinking to write Ms. Scott a letter to ask her for their story. And when I came to the last page of Rowe and Nate story to see that there is a sneak peak of Ty and Cass story, I'm so happy I can't wait to read their full story. And Paige, I have so much to say about her, more than her sister, Cass, actually. At first, I wasn't a fan of her and was quite mad at Rowe because she's so judgmental to her. And kinda annoyed that Ms. Scott wrote her so cliché and predictable. I mean there are a lot of characters who similar to her YA/NA books I've read. Let's say I want to read something else, a different character, not a predictable cliché kind of character, though she's just a secondary character. And then, she surprised me. As Rowe said, she has so much more in her. And I love her for that because at the same time, she's still the same Paige I read in first few chapters.
The story is so engaging and a page-turner I feel like can't stop reading it, even when I have to. And the pace is spot on. Ms. Scott surely can put perfect time for me to feel sad, happy, and laugh with the characters. And when I finally come to the last page, I'm not ready to say goodbye to the characters. So happy I'll meet Ty and Cass soon and hopefully I can still meet Nate and Rowe and Paige too.

Result: 3.5 out of 5 stars