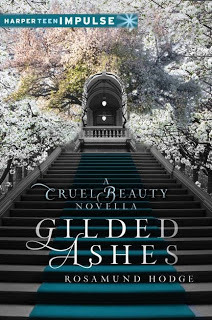 Blurb from Goodread
A romantic and fantastical reimagining of the classic Cinderella tale, Gilded Ashes is a novella by Rosamund Hodge set in the same world as the author's debut novel, Cruel Beauty.
Orphan Maia doesn't see the point of love when it only brings pain: Her dying mother made a bargain with the evil, all-powerful ruler of their world that anyone who hurt her beloved daughter would be punished; her new stepmother went mad with grief when Maia's father died; and her stepsisters are desperate for their mother's approval, yet she always spurns them. And though her family has turned her into a despised servant, Maia must always pretend to be happy, or else they'll all be struck dead by the curse.
Anax, heir to the Duke of Sardis, doesn't believe in love either—not since he discovered that his childhood sweetheart was only using him for his noble title. What's the point of pretending to fall in love with a girl just so she'll pretend to fall in love with him back? But when his father invites all the suitable girls in the kingdom to a masked ball, Anax must finally give in and select a wife.
As fate would have it, the preparations for the masquerade bring him Maia, who was asked by her eldest stepsister to deliver letters to Anax. Despite a prickly first encounter, he is charmed and intrigued by this mysterious girl who doesn't believe in love. Anax can't help wishing to see her again—and when he does, he can't help falling in love with her. Against her will, Maia starts to fall in love with him too. But how can she be with him when every moment his life is in danger from her mother's deadly bargain?

ebook, 111 pages
Published April 1st 2014 by Balzer + Bray
language edition: English
series: Cruel Beauty Universe
genre: Fantasy, Romance, Young Adult
My Thoughts
This book begins with "My mother loved me more than life itself. That's how everything went wrong." That single paragraph intrigued me, because what can be wrong with the love of a mother who loves you more than anything, though there is also a song, Indonesian song, that called "Love that Kill You". And after reading this novella, I know that yes, apparently love can kill you.

To be honest, I don't know much about Cinderella story. I only know one version of the story. It's Disney version which is way different than this story. Just like Cruel Beauty, this retelling is far from sweet, easy, cheerful story like Disney created. It's the opposite. It's dark, eerie and cruel with ironic story. After all, it's about the bargain with the demon, nothing sweet you will get when you do it, right? That's the connection between Gilded Ashes and Cruel Beauty. Gentle Lord makes an appearance here, to grant wishes from characters in this story. With him alone and his connection, I think the author can create many stories.

Again, just like Cruel Beauty I feel like it's a new story. Maia or the Cinderella in this story doesn't need prince charming to save her from her stepmother. She's strong and brave enough to save herself and help her stepsisters. She's also witty, smart and honest, though in her honesty there is also deceit. She likes and good at deceiving, though her reason is to protect her love ones. She's a complicated and a weird character. And that's why I love her.

I think this is a perfect companion for
Cruel Beauty
,
one thing that doesn't quite perfect is it's a novella. It's too short while I want more of Maia and Lord Anax and even Kore and Thea, Maia stepsisters.
Result: 4 out of 5 stars