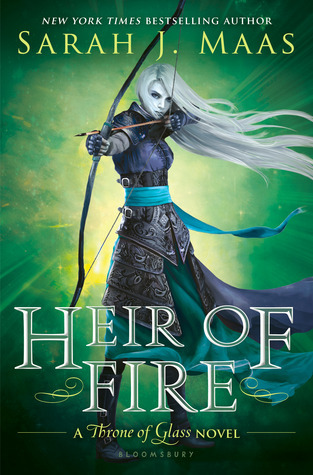 Blurb from Goodreads
Lost and broken, Celaena Sardothien's only thought is to avenge the savage death of her dearest friend: as the King of Adarlan's Assassin, she is bound to serve this tyrant, but he will pay for what he did. Any hope Celaena has of destroying the king lies in answers to be found in Wendlyn. Sacrificing his future, Chaol, the Captain of the King's Guard, has sent Celaena there to protect her, but her darkest demons lay in that same place. If she can overcome them, she will be Adarlan's biggest threat – and his own toughest enemy.
While Celaena learns of her true destiny, and the eyes of Erilea are on Wendlyn, a brutal and beastly force is preparing to take to the skies. Will Celaena find the strength not only to win her own battles, but to fight a war that could pit her loyalties to her own people against those she has grown to love?
Kindle Edition, 565 pages
Published September 2nd 2014 by Bloomsbury USA Children's
edition language: English
series: Throne of Glass
genre: Fantasy, Romance, Young Adult
My Thoughts
I don't think I can tell you how much I was so eager to get my hand on this book. I started the series with a doubt. Celaena has potential but she has things that I didn't quite like both in Throne of Glass and The Assassin's Blade. And then I read Crown of Midnight, it literally changed my perspective on her and the story. I loved it and counted down till the release of Heir of Fire.

Then I finally got the book. I read it and there are a lot of things that remind me of the Lord of the Rings (book but mostly the movie). To be honest, I was quite surprise about it. There were things that also reminded me of LoTR in Crown of Midnight, but I thought I won't get the feel again here. I tried to ignore it just like what I did in Crown of Midnight. The problem is Crown of Midnight has so much more to offer than the similarities of other epic fantasy story. So in a way I can keep my focus on it, rather than the similarities. But here, I couldn't ignore it since there is barely anything in more than half of the book. It was boring. I was bored to death I kept putting it down and fell asleep every time I tried to read it. I think the author tried too hard to make the book become a more complex epic fantasy story she forgets to add something to engage readers, at least me, to the story. This is indeed an epic fantasy book, with all of those descriptions, worldbuilding, the setting and even the characters own languages. But somehow, it's just all about those things, there isn't much thing that happen in it to intertwine each one of them. There aren't much happen with Celaena and other characters to the story. It's all about building the power, the abilities, and allies but forget to add something to make those building process more interesting.

However, I was quite surprised in the last 40% of the book. When 60% of the book was so boring, I didn't have any hope to the story. I just read it to finish it. I can't tell you how happy I am when the author finally showed me what she didn't show in first part of the book. The slow-pace story and many POVs that keep changing that seem didn't connect to one and another, especially the witches POV are finally pick up and I can't help not to enjoy it. I think in that last 40% is where things finally happen and there are tensions in it. I especially liked that most of characters here show their vulnerability. It makes them more real and they grow as characters.

To be honest, I was thinking to dnf it, I really did. If it wasn't my love for Chaol, I might not finish it. Now I'm glad that I keep reading it because that last 40% turn my thoughts about this book, from didn't like it to really like it.
Result: 3.5 out of 5 stars