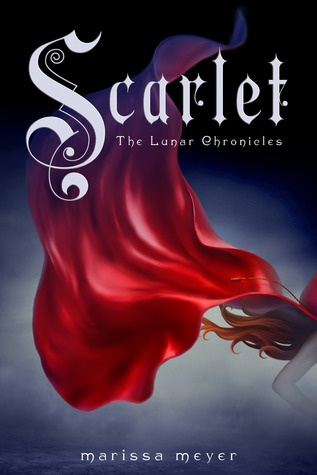 Blurd from Goodreads
Cinder, the cyborg mechanic, returns in the second thrilling installment of the bestselling Lunar Chronicles. She's trying to break out of prison–even though if she succeeds, she'll be the Commonwealth's most wanted fugitive. Halfway around the world, Scarlet Benoit's grandmother is missing. It turns out there are many things Scarlet doesn't know about her grandmother or the grave danger she has lived in her whole life. When Scarlet encounters Wolf, a street fighter who may have information as to her grandmother's whereabouts, she is loath to trust this stranger, but is inexplicably drawn to him, and he to her. As Scarlet and Wolf unravel one mystery, they encounter another when they meet Cinder. Now, all of them must stay one step ahead of the vicious Lunar Queen Levana, who will do anything for the handsome Prince Kai to become her husband, her king, her prisoner.
Kindle Edition, 464 pages
Published February 5th 2013 by Feiwel & Friends
edition language: English
series: The Lunar Chronicles
genre: Sci-fi, Romance, Young Adult
My Thoughts
I'm so join the hype now! Although I enjoyed Cinder, there were things that I didn't quite like and it was kind of predictable for me. Yes it was a Cinderella retelling so I felt familiar with it, but it was the Sailor Moon references that I think made it predictable as it was one of my favorite comics when I was a teenager.
In this Little Red Riding Hood retelling, I felt like reading a new story. Again, yes I still felt a familiar feeling throughout the story, who doesn't, anyway? As it's one of the most popular fairy tales, but at the same time, I also felt it has its own story, makes it a new refreshing retelling. It even still has twists for me. And the fact that it combines with Cinderella retelling nicely, made me can't help not to fall in love with the story.
First of all, I loved that the main characters of this Lunar Chronicles, Cinder and Kai, are growing so much from Cinder. Cinder isn't naive anymore, though she still a bit confused with her true role. I can accept that, though. She just learnt her true identity and at the same time has to face the consequences of it. Kai, though also still confused of what he has to do and is overwhelm by his role, slowly realize his responsibility and willing to sacrifice himself for greater things. There are uncertainty and confused role on both of them, but I think it make them good characters as they are growing much in me and feel real. It also shows that they can be great leaders for their people.
As for new characters, they are all interesting and awesome characters. I loved how strong Scarlet can be. She doesn't have power but her strong-will made her a badass heroine to me. And Wolf, is quite a mystery throughout the story, though it's kind of obvious of what his role is since I already know Little Red Riding Hood story. But still, he can show me surprises.
And I won't forget about Cadet-who-called-himself-Captain Throne. He's so funny and his sarcastic jokes never failed to make me laugh. Now I'm really curious to see his relationship with Cress.
I have to admit that at first I was kind of doubt Cinder story will let aside so that Scarlet can have bigger story here. Scarlet is still the main character here, but Marissa Meyer didn't let Cinder in the shadow. She has the same important role as Scarlet. I think it makes me love it. Meyer can balance both of the stories and intertwine it well.
Now I have high expectation for Cress, can't wait to read it. Well…am going to read it soon, shoot…am heading to the book now!
Result: 4.5 out of 5 stars