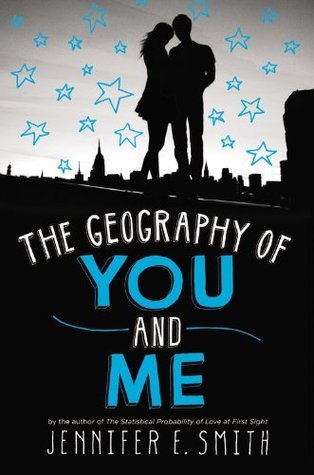 Blurb from Goodreads
Lucy and Owen meet somewhere between the tenth and eleventh floors of a New York City apartment building, on an elevator rendered useless by a citywide blackout. After they're rescued, they spend a single night together, wandering the darkened streets and marveling at the rare appearance of stars above Manhattan. But once the power is restored, so is reality. Lucy soon moves to Edinburgh with her parents, while Owen heads out west with his father.
Lucy and Owen's relationship plays out across the globe as they stay in touch through postcards, occasional e-mails, and — finally — a reunion in the city where they first met.
A carefully charted map of a long-distance relationship, Jennifer E. Smith's new novel shows that the center of the world isn't necessarily a place. It can be a person, too.
Kindle Edition, 352 pages
Published April 15th 2014 by Little, Brown and Company (first published April 10th 2014)
edition language: English
genre: Contemporary, Romance, Young Adult
My Thoughts
ARC was provided by the author/publisher via NetGalley in exchange for honest review.
This is definitely one sweet YA contemporary story that I really liked, though it has at least two things I usually don't like.
Meet Owen, a 17 year old boy who just moved to the basement of one of apartment building in New York. He was forced to leave his hometown because his dad, and he is also, couldn't live at their home in Pennsylvania anymore, not after his mom's death. He then met Lucy, a 16 year old girl who lives at one of the apartments in the same building, on September 1st at the elevator in that building.
Everything after they met feel so fast and certainty there is an insta-attraction between them. I usually don't like this instant thing. I find it's hard to believe things that begin in an instant. But here, in Lucy and Owen relationship, the insta-attraction also feels so slow, waiting to grow within pages and chapters. Thus, I don't feel that it's an insta-love or an insta-attraction, really.
"There are no open spaces."
"There's a whole park just a block away."
"You can't see the stars."
"There's always the planetarium," Lucy said, and in spite of himself, he laughed
Owen and Lucy couldn't be more different. The way they grow up, what they see and want for their future and they relationship with their parents are so different. They are like the opposite of one and another.
In line for the bus, Lucy daydreamed.
She was thinking of road trips and mountains and wide-open spaces.
But really, she was thinking of New York."
In a coffee shop, Owen's mind wandered.
He was thinking of castles and hills and cups of tea.
But really, he was thinking of that elevator.
But in their differences, there are also similarities. I liked the idea that despite the differences, everything eventually ends up at the same thing. And in the end, I think it can be interesting because of the way the author wrote it.
This story is written in two POV from third person. I usually prefer a story from first person. But here, I don't mind with the way it's written. It's beautiful and can still make me see and understand Owen and Lucy as clear as if it's from first person POV.
And with the way they sort out their relationship, their feeling with each other, and the distance between them, the story feels so slow, even if I compare with another Jennifer E. Smith book I've read, This is What Happy Looks Like. Yet, the slow-pace couldn't make me less enjoyed it because in that slow-pace I understand that it isn't just about their relationship. It's also about their relationship with their parents,
"You knew?"
"Of course I knew."
"I thought you were too busy.…"
"Being sad?"
Owen gave him a rueful grin. "Well… yeah."
"You know what made me less sad?"
"What?"
"Seeing you happy," he told him.
about their friends and their thoughts of themselves
In New York, she'd stood apart, and in Edinburgh, she'd stood out; but here, she just stood alongside everyone else, and there was a comfort in that, in fitting in for once.
It's about be braved to ask something in the first place to know the answer. I think that's what I loved about this book. It's not entirely about teenage first love but it's also about something else, some bigger thing in their life.
Result: 3.5 out of 5 stars